Email:
All formal communication with members is via email.
Upcoming events are advised directly via email to members
Facebook page:
Upcoming events are more generally advised via the Facebook page.
The Facebook page is a closed group which anyone interested in Samoyeds can request to join. The Facebook page has administrators who will block anyone who does not adhere to the description / purpose of the group:
"This is a place to share and talk about your Samoyeds, share pictures, outings, funnies, anything to do with your Samoyeds.
It's also a place to ask for advice and support about your Samoyed or other things related to it (eg: shows) keeping in mind people's opinions are their own.
Please do not use this group for advertising, but referrals and recommendations for Samoyed related items are fine"

Annual Magazine (Sleigh Courier)
An overview of the club's activities is published in an annual magazine known as the Sleigh Courier.

If you would like to contribute an article or advertise in the Sleigh Courier please contact the Editor.

Advertising Rates per annual:
1/4 page $5
1/2 page $10
Full page $15
Breeder Directory
Per annum per business card size - $10
Includes addition to webpage and list of breeders to puppy / older dog enquiries.
Vales
Per annual up to full page - Free
Christmas wishes
Per annual up to 1/2 page - Free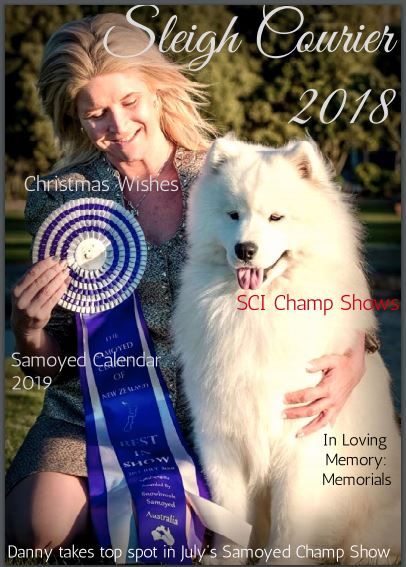 Sleigh Courier Summer 2018 (pdf 25MB)
Distribution
The Sleigh Courier is emailed out to financial members of the Club.
For a surcharge hard copies can be posted.

Historical copies of the Sleigh Courier are also available for viewing and contain lots of interesting material.